1993 Modified
---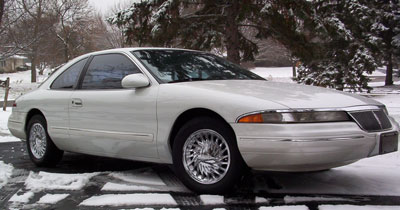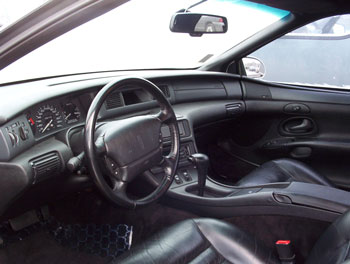 Dan "Danoz93" Ouwenga's gorgeous 1993 Opal Opalescent with Black leather interior and 20 Spoke Chrome Directionals. Modifications include: LMS Double X exhaust with XpansionX polished Stainless Steel mufflers, 160 degree thermostat and Hypertech Chip from Dennis Reinhart. The car runs the quarter mile at 14.6@96 without the chip.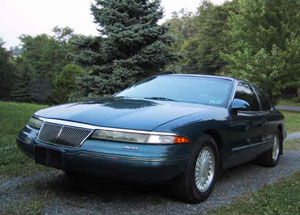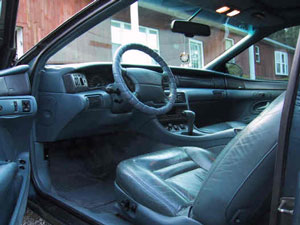 This is John "driller"Peters' rare and beautiful 1993 Mark VIII with Nordic Blue Exterior and Aquamarine Interior. Modifications: K&N Panel Filter, Drilled airbox, Intake silencer removed, Intake resonator removed, 1-2 Accumulator upgrade, Mercon V, B&M SuperCooler Transmission Cooler, Performance Chip and MAF combo(yet to be installed -9/02). Planned: Exhaust, Chrome directionals, Sensor lower suspension. Repairs(to date): Brake Rotors, Brake Calipers, Wiper Motor, Transmission Service, Alternator, Battery, Spark Plugs, Spark Plug Wires, Fuel Filter, and Strut Bushings. I would like to thank the officers and all of LOD members for being such a positive contribution to my enjoyment of owning one of the finest automobiles made in the USA. It has been many, many years since I have taken as much pride in owning a vehicle as much as I do now with the Mark VIII. I hope my humbling experiences may inspire some half as much as those of fellow more seasoned LOD members have inspired me. Keep up the good work.
This is Kale Kainoa's 93 Mark VIII. It has a Deep Jewel Green exterior with tan interior. Modifications include a custom enclosure that houses two ten-inch Rockford Fosgate subwoofers powered by a 500-w Concord amp and protected by an Alpine 8028 alarm system. Exterior modifications include shaved emblems all around, newer directional type OEM wheels wrapped in 245 50 ZR16's, A custom cat-back exhaust system with H-pipe featuring Dynomax race magnum mufflers, 2.5-inch stainless tips and the removal of the third cat. Engine modifications include SVO 9mm wires, NGK plugs, K&N Air Filter, COBRA decals, and a Superchip. The Air-Suspension has been highly modified by adding a reserve tank, 1/2" lines and solenoid valves, additional compressors, and remote pancake and inflate operation. The system will raise the car from the ground to ride height in a single second. Click here to learn more about the air-suspension.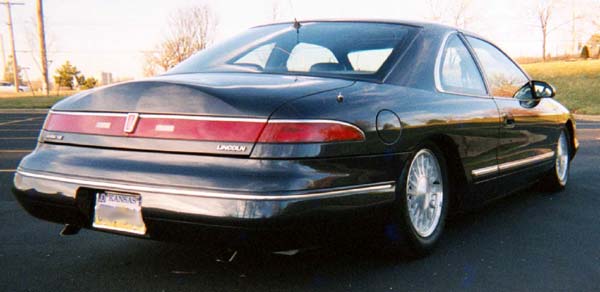 This is Michael Lamb's 1993 beauty. The stock audio inside this Mark has been replaced with a Kenwood CD deck with changer hooked up to a Kenwood ten-disc changer. All this is channeled into a 400 watt Kenwood amp which feeds two Pioneer 12 inch woofers in a custom enclosed box in the trunk. Modifications include: club co-president Kale Kainoa's custom suspension control, Flowmaster (40 series) exhaust, Superchip, and a K&N air filter. Future mods: new wheels and tires and a bunch of goodies from Geno at Lincoln Motor Sports.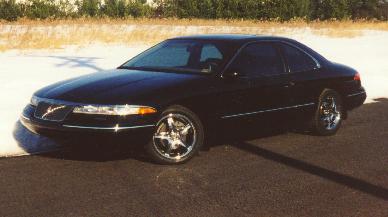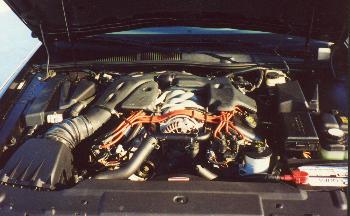 This is Adam Neilson's 1993 Mark VIII. Modifications include Mark VIII splash guards, Chrome Cobra R style wheels (17X 7.5), Goodyear Eagles 245/45ZR17, 20% tinted windows, K&N drop-in air filter, splitfire spark plugs. Future modifications will include a cat-back exhaust system with Flowmaster 40 series mufflers, a performance chip, underdrive pulleys and 3:73 gears.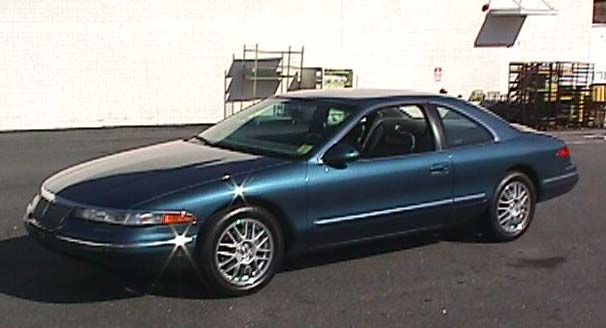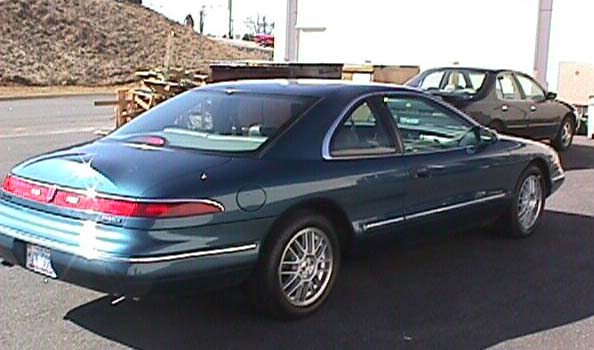 Above are two views of Luke Walling's sharp 1993 Mark VIII.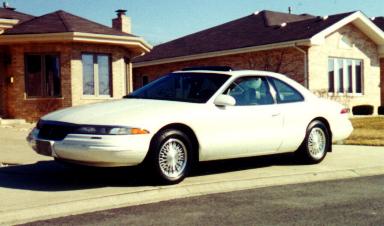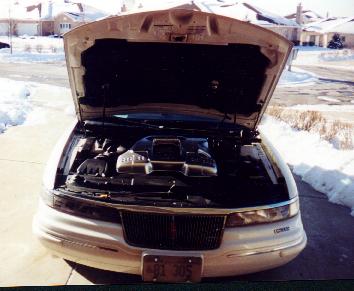 This is Dean Lawlor's pretty 1993 Pearlescent White 1993 Mark VIII. It is in excellent condition. Firestone WinterFires ride on stock Lacey Spoke wheels. Modifications include rosewood inlay on the center console, chrome exhaust tips, matching white bumper guards and a wind deflector above the sunroof. Engine modifications include drilling the airbox and K&N fliter. The engine cowling has been painted in chrome with white accents on the lettering. All the offer options for 1993 are on this car. His family is the second owner of this vehecle and they are all pleased with its performance, mileage and reliability.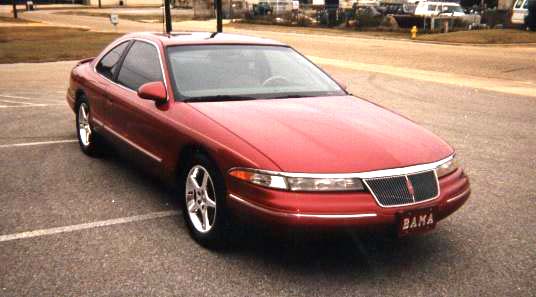 This is Kenny Green's neat 1993 Mark VIII. It has 17 inch Miglia rims mounted with B.F.Goodrich P245/50HR17 radials. The sound system has been upgraded with an Alpine Stereo System, 2-12's, and triaxle speakers and tweeters. Exterior modifications include an aftermarket rear spoiler. The car is in the beautiful factory color, Garnet Red. Kenny bought the car from its original owner with 37,673.02 miles on the odometer. It was never wrecked, had all its maintainance records and the only defects were three door dings. Interior is tan with wood trim. Options on the car are moonroof, cell phone, CD changer and traction control.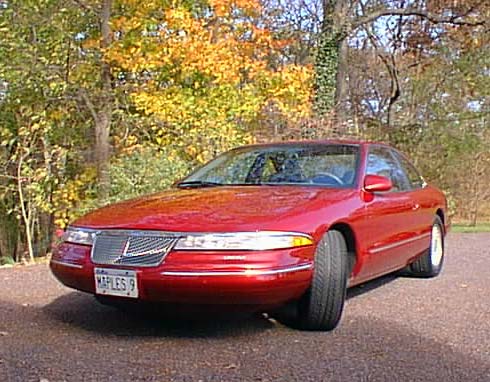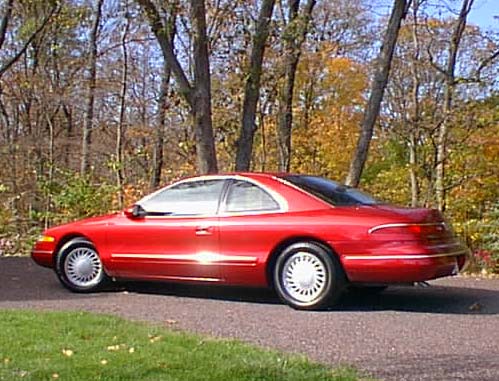 This is Woodie Maple's hot Garnet Red 1993 Mark VIII. Woodie says that the LOD has been a tremendous help to him and has saved him a bundle. After reading the LOD message board, he has done the following to the car: 1-2 accumulator piston change, Mercon V transmission fluid change, added a transmission cooler, changed the MLP switch, drilled out the air filter box and added a K&N filter, installed a performance chip from Max RPM, installed new front struts from Arnott Industries, replaced the multipurpose switch that controls the windshield wipers and turn signals, replaced the brake pads and resurfaced the rotors on all four wheels. Woodie did all the work himself, except for the MLP switch change.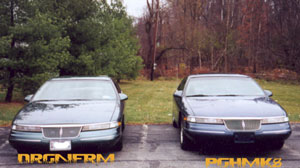 Jason Urso (pghmk8 on the LOD). The car is basically stock with the exception of the sensor lowering. The first thing performed by his brother Ray (drgnfrm). It has 20% tinted windows all around....with a strip on the windshield. As you can see it is Blue....he is not sure of the paint code or the actual color name, but it also has a blue interior.....making it blue on blue. It is a '93......MANY more modifications to come.....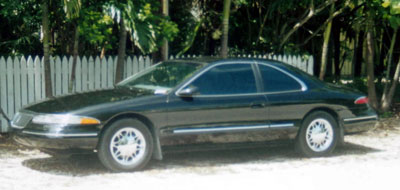 When Wayne Morris inherited this 1993 Mark VIII from his Dad in mid May 2002, it had 7995 actual miles on it. His Dad bought it new in March of '93. It now (July 21, 2002) has 9530 miles on it. Most of the added miles were from the drive from Dayton, Ohio to Wayne's home on Big Pine Key, Florida - "South of Reality". The car performed flawlessly on the trip averaging over 28 mpg. The Mark VIII is in good company with his '90 35th anniversary Super Coupe, '56 Thunderbird with 4 speed transmission conversion and two Harleys. His Dad had winter driven the car and not done a good job cleaning the wheels. Consequently, the salt had ruined them. He put on a set of new Octastars obtained from an LOD member. Also had the windows medium tinted to protect the interior from the vicious south Florida sun. Other than these two items, the car is completely stock. The only option on the car is traction assist.