1995 LSC Modified
---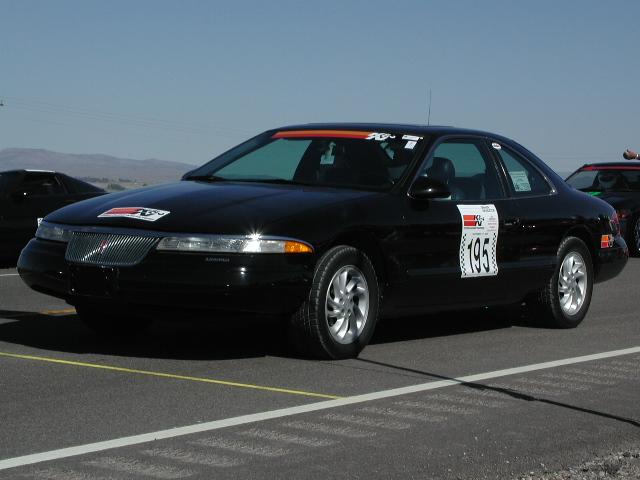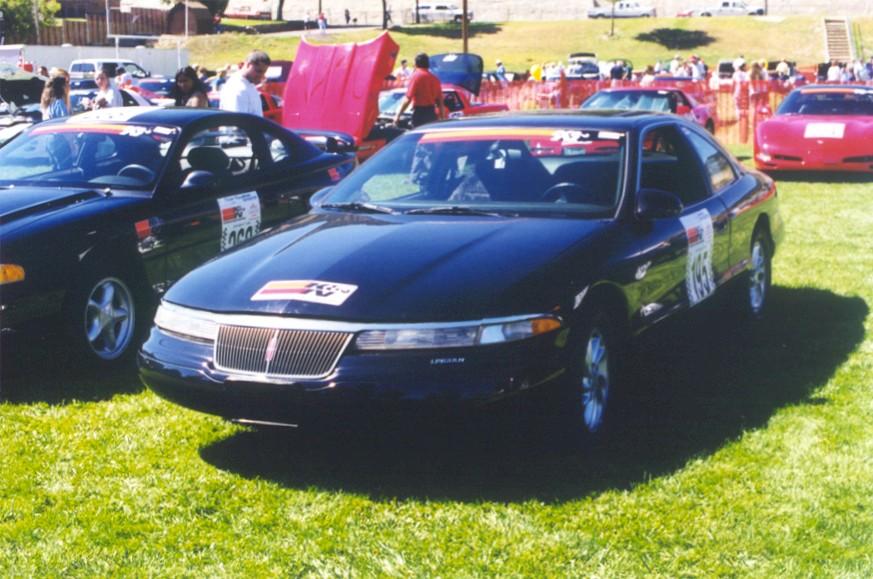 This is Tom "Breezer" Dern's 1995 Mark VIII LSC. These pictures are from Nevada's Silver State Classic Challenge September 17, 2000, which Tom entered with his Mark VIII. In last May's race Tom got disqualified for going to fast! The car is capable of more the 120mph bracket Tom was in, but he does not have a roll bar in it and that is why they won't let him run more than 140mph.The race is predicated on the safety equipment you have in the car, you can find Tom's results under the 120 mph bracket at Silver State Classic September 2000 results. Tom would like to see some other Marks show up to this race, as the Mark VIII is a great road car. In the race, there is one stretch of highway that's a 13 mile straight-away. Can you imagine 140mph for a little over 6minutes?
Modifications are as follows: a SuperChip, a K and N filter, mufflers removed with straight pipe substituted all the way back, Bosch 4 spark plugs ,and Bill Hamiltons design of just drilling holes in the air box. With 240hp to the wheels, the car does120 mph at 3800 rpm very comfortably.
The above is a video of Tom's dynometer run. The results were 240hp to the wheels, but he did not get torque numbers, as he forgot to ask. His main concern was the speed limiter as you can hear it let go in the dyno run,but its still respectable because when it shuts off. The Mark VIII is at 4700rpm and doing 155mph when it shuts down. Tom believes that if that second limiter wasn't there, the car is capable of 170-180mph. He just wishes he could prove it. Tom thinks they really screwed up the marketing of the Mark VIII, because it sold in such low numbers. Tom loves his Mark VIII and thinks it is a great car!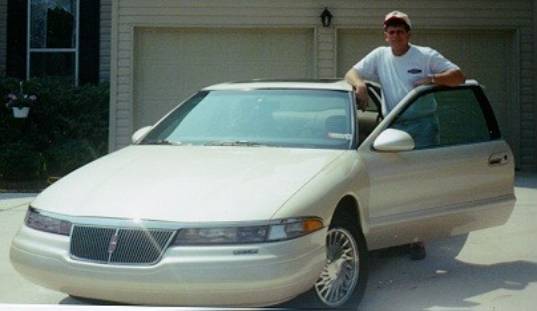 This is Bill "DOHC Mark VIII" Hamilton and his 1995 Mark VIII LSC. He added a SuperChip and modified the air box for more intake air and sound. Future mods probably will be a different set of wheels and maybe a better flowing exhaust system. This car is Ivory Pearlescent Clearcoat in color with Ivory interior. With a July 1995 build date, this was one of the midyear LSC (Luxury Sports Car) packages. It is equipped with the DOHC, 32 Valve, 290 hp, 4.6 liter engine similar to the one found in the 96-98 Cobra Mustangs and has a 3.27 rear axle ration an AODE automatic transmission. He has never taken it a ¼ mile track but using a G-Tech Pro Meter it has recorded times as follows:
0-60 mph times and ¼ mile times with speeds
6.16 sec and 14.57 sec at 105.0 mph
6.13 sec and 14.60 sec at 103.8 mph
6.15 sec and 14.60 sec at 102.5 mph
6.09 sec and 14.54 sec at 104.1 mph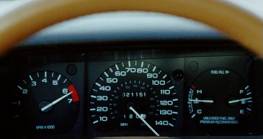 Bill showing what the Mark VIII and the SuperChip are capable of. Bill, how did you take this picture at that speed? You must have used fast film!
This is Bill Hamilton 1995 Mark VIII at the last day of the season (November 14, 1999) at the Cooper River Dragway 1/8 mile track. He beat a Z/28 Camaro! He also beat his personal best time, doing 9.585 at 75.50 mph with a 2.299 time for the 60-feet. His 3 best times of the day were all run with the traction control on and letting the transmission shift for itself. Taking the traction control off resulted in too much wheel spin and a best of 9.796.