1995 Base Modified
---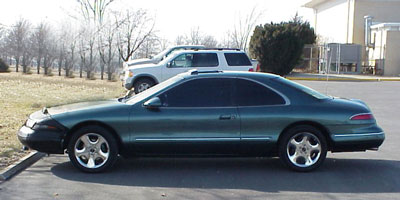 This is Lloyd "keecam" Jackson's classy 1995 Mark VIII. It is a gorgeous Willow Green with Saddle interior. It has 5% tint, wind guard, Pilot foglights,17 inch elite wheels and 255-45-17 Kumoh tires. It has 111,000 miles and running strong!
| | |
| --- | --- |
| | Custom air ride controls allow Raymond, aka drgnfrm, to deflate the can for that spectacular stance. When it's time to commute, it raises back to normal ride height. Follow the link below to learn more about Kale's air suspension modification, as well as other suspension information. |
This is Raymond Urso's 1995 Lincoln Mark VIII. The car is a beautiful Medium Willow Green (paint code SH). The car has had the windows tinted (35% right now, but will be 5% on the back and 20% on the front windows soon). It has both the sensor mod and Kale's air suspension mod. It has the stock stereo system with a little sub boost by the way of 2-JL10W0 (JL Audio 10" subs) powered by a Phoenix Gold M44 amp wired in mono powering the subs with @400 watts.
| | |
| --- | --- |
| | |
| On the right is Lance Bowman's 1995 Garnet Red Special Edition. The 98 LSC on the left belongs to his dad, James. Modification on Lance's car include K&N filter, Flowmaster 40 series mufflers with the resonators removed, intake manifold baffle removed, heat exchanger removed and plugged, Bosch Plus4 plugs, and 3.55 ratio rear axle. | This is Michael Sprague's custom 1995 Mark VIII. It has a neatly installed high end stereo system including tweeters that are faired into the inside of the A pillars. For more pictures and hisory on this car click here. |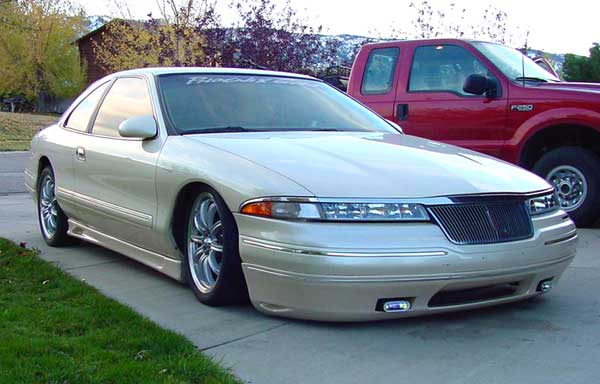 This Joseph Barretts clean pearl white 1995 mark VIII. Right now the car sports a performance chip, dual exhaust, shift kit, ground effects, mass air, subframe connectors, HUGE stereo, intercooler parts, rims, HID's, brakes, and a custom alum intake tube. It will be going through a full transformation complete with engine swap in early 2002. Joseph is from Casper, Wyoming and most people know him by his LOD alias "ponyfreak". Click here to see more info about Josephs stereo and upcoming mods.
Return To Members Rides