1998 LSC Modified
---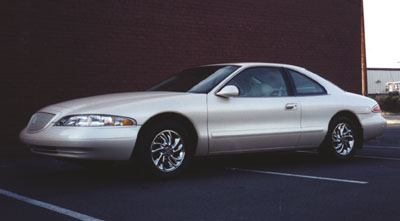 This Greg Petterson's sharp 1998 Mark VIII LSC. It has all the options available that year including the cargo net. Modifications include a cut out airbox lid, Max RPM chip. It was run at Rockingham Dragway on September 29, 2000 acheiving a 14.70 second quarter mile at 95.68 mph.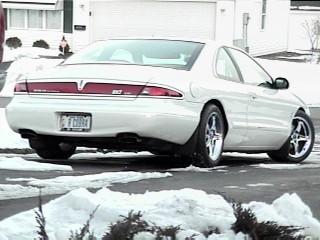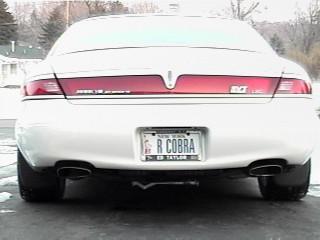 This is Jim Barbera's 98 LSC R Cobra Conversion: Front and rear Cobra drive hubs, Real Ford Cobra R wheels 17x9, BFG G Force Kid T/A's 275/40/17 front and rear, Cobra mini spare tire, 3.73 posi-graphite carrier bushings, Transgo HD-2 kit, Brembo 4 piston front calipers/13.1"rotors,power stop rear rotors, Bilstein 2000 Cobra R rear shocks, K. Brown rear axle support, cradle brace, support brace, 80mm mass air, SuperChip, transmission and engine oil coolers, 1 1/4 inch Addco sway bars,offset rack bushings. Future plans are: supercharger, Cobra stage 2 heads, FR500 intake-duel mass air meters and race short block assembly. This is a fast Mark that sounds like it is only going to get faster!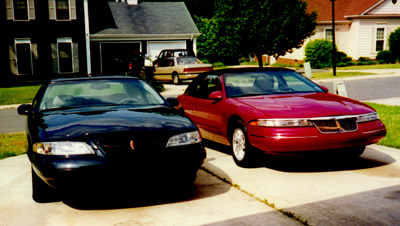 This pair of Mark VIII's belong to members James Bowman and his son Lance . The Black 98 LSC on the left belongs to dad, while the Garnet Red 1995 Special Edition on the right belongs to the son. The 98 LSC was purchased new in August 1998, it has every option but no chrome wheels! (" I would love to see the build sheet or window sticker on an LSC without chrome wheels. - They were supposed to be standard on the LSC." webmaster) Modifications include a cobra mass airflow meter modified for the Mark VIII, Flowmaster 40 mufflers and a 3.55 ratio rear.
{main}