Other Ford Cars
---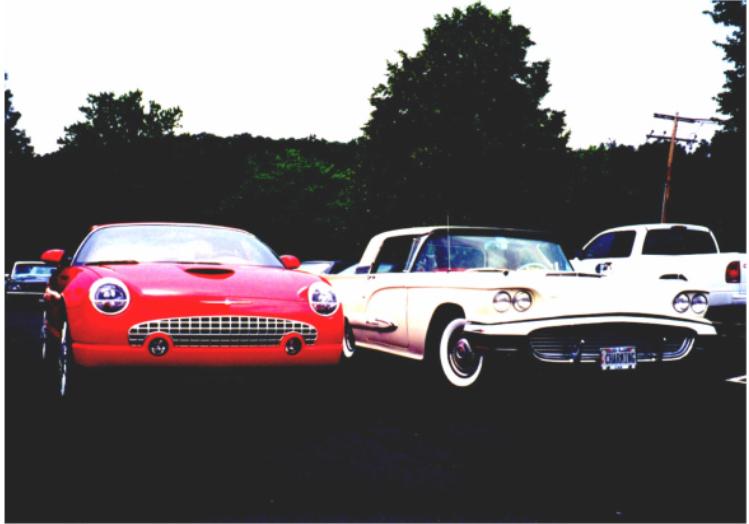 Co-President Alexander Sosiak has also a 1959 Ford Thunderbird. Here it is with the 2001 Thunderbird prototype at the International Thunderbird Club convention at Suffern NY July 14-18, 1999. Alexander helped organize this great event. Hopefully Ford will put the next Mark on this exciting rear wheel drive platform.
We hope when Ford makes the Mark IX prototype, they will feature it at one of our club conventions. Wouldn't you like to have your car photographed with a show car too? We encourage you to join and get involved with this club.

Co-President Kale Kainoa owns two of this trio of Merkur XR4Ti's. He just bought a small turbo for one, and is trying to get a few more parts together to get it motivating again. He'll probably sell it when he is done and invest in some go fast goodies for his Mark VIII. With about $1300 total invested in the blue car, the car should run in the low 14's. The car is equipped with a $900 cylinder head. He had to sell the white one, the interior in that car was MINT! He took it out of a low mileage 88 with flawless perforated black leather, 150 speedometer, in-dash CD changer, all down the drain for $500 (no motor, no trans). It was collecting dust at his Dad's house, no room for it at his apartment. Kale says these cars are pretty cool. Rear-drive, relatively light, 200HP, independent rear suspension, and parts are cheap and pretty easy to find (on the Internet).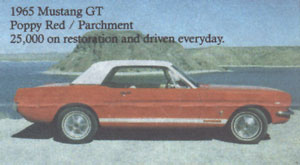 This Tim "Moffie' Van Nattan's restored Poppy Red 1965 Mustang. This car is not just a show car, it is driven everyday.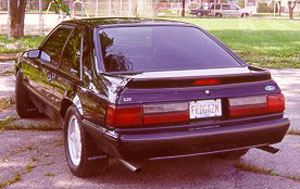 This is Manuel Zamudio's 91 Ford Mustang LX 5.0. It's a black five speed with gray leather interior, chrome Cobra R rims (put on after picture was taken), and the usual list of bolt ons - pulleys, K&N with March Ram air kit, etc. Personalized plate reads: FRDGAZM (Ford-orgasm).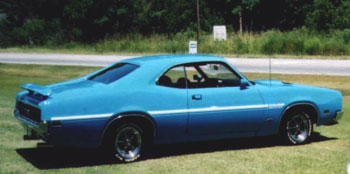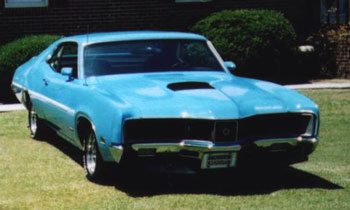 This is DW Rose's 1970 Mercury Cyclone Spoiler painted in "Grabber" blue with black interior. It has a 429 Cobra Jet packed with 450+ FORD horsepower. Total restoration of about 10+ years. It's called "BLUE THUNDER". What a beauty!